The stress of coping up with the exams and to support yourself while earning inside jobs is itself a big target to fight for. Many of the international students who aim to study abroad belongs to different cultures and backgrounds where the support system regarding finances is not that strong. The loans (study loans, parental loans, loans from relatives) are the first option for the students if they don't have enough savings, add another additional responsibility on them. As an international student, they opt for different funding possibilities either from DAAD or from their respective universities to assist them in getting student discounts and relaxations in fees.
About this blog, we will be throwing you some tips and dots as an international student to support yourselves with good respectful wages keeping different constraints of regulations and problems in mind.
Visa Extension
Congratulations, if you have succeeded getting admission in Germany. Again, it is important to note that with the course to select, you need to be very careful in selecting the city to study as well. It makes an important affect on the job aspects as well. Major and big cities like (Berlin, Munich, Stuttgart, Hamburg etc) have more opportunities to culturally involve yourself, more job opportunities specifically if you lack in your German language skills.
The second most important factor is the visa conversion/extension as soon as you land to Germany. The Visa which your respective country will issue you based on your admission in the universities with all the respective formalities will be D-Type student (Issued for 3-6 months and you are not permitted to work in the respective country). It is very important to plan your study, stay and work in correspond to your visa. As Visa Extension is a major basis for the next proposal point.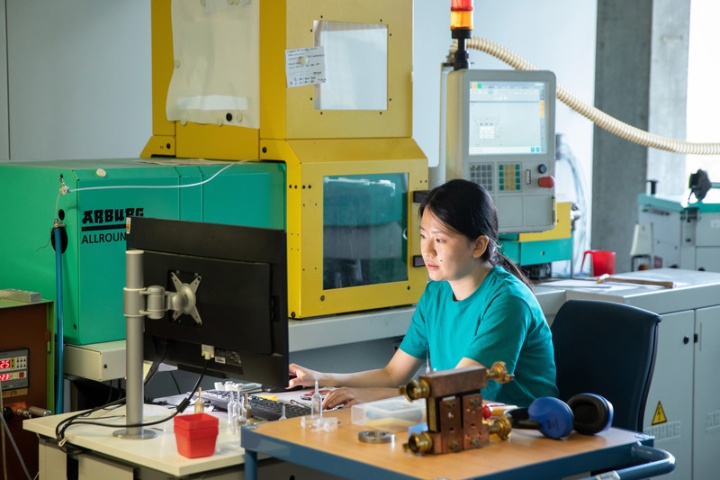 Getting formalities done
As soon as you reach in your respective city to study in Germany, the first step is to move towards the Anmeldung (City Registration) in that specific city. You can write an email to Ausländerbehorde (Immigration Office) for an appointment or Rathaus (City Hall) for the first step. As soon as your registration is done, you can proceed for health insurance activation and bank account activation in Germany. Health insurance will give you [Versicherungsnummer (Insurance number)] and Bank will give you (IBAN number with BIC) for your money withdrawal and account sharing for job salaries. The major part comes now with (Visa extension from Type D to temporary residence permit with article 16 b) you will see,
The period of validity when the temporary residence permit for study purposes is issued for the first time and for each subsequent extension is at least one year and does not, as a rule, exceed two years. The host educational institution may be consulted to find out whether the purpose of residence is still achievable.
The temporary residence permit entitles the holder to take up employment totalling no more than 120 days or 240 half-days per year, and to take up a student job. This does not apply in the first year of residence during a stay for the purpose of preparatory measures for a course of study, except during holidays. Further read.
Let's breakdown
Now as the major prerequisites are done. It is time to look for some jobs to support our finances. The first step is to breakdown your expenses per month, an intelligent way to manage your finances is very important. Let me take you to some step-by-step approach that will broaden your view,
Depending on your city/ state, the expenses vary from 600-800€ / month if you want to live a normal and a healthy lifestyle maintaining your study and work balance. But you can take up to 1000€ a month keeping in mind you want to travel around Germany to meet friends and family, visit nature, do some sports etc.
Breaking down per month to (250-350 € for your dormitory depending upon the state you are living in), followed by (health insurance around 110 €), you need food to live for (150 € for groceries per person), you need Wi-Fi and Mobile Data (take 30 € for it) combining 650 € in total. Students also prefer a Student Ticket costs (200-220€ per semester) which covers all modes of public transportation within the city.
Find a Job
As you are fully prepared what your expenses are and what you must do. Let's get to work, search engines, you can use different job posting platforms to contact and apply for jobs, such as Stepstone, indeed, jobmensa etc which are common in Germany. You can also look for different job positions in respective university job platform/framework for students. Connect with your social networks (LinkedIn, Xing etc. to comprehend with latest job postings).
What to search for?
You can search on google for different job offers (mini jobs around 450€ tax free), Student jobs ("HiWi Hilfswissenschaftler" (research assistant) at respective universities supporting Ph. D students or Professors corresponds 9-12€/hr), company jobs ("Werkstudent" (working student) in different companies corresponds to 10-17€/hr), company internships ("Praktikum" (interns) in different corresponds to 900 – 1600€/hr) etc.
What documents to compile?
You should attach an updated CV/Resume, a nice written cover letter (be in English if you are not good in German, because if you are not good in speaking German but you get some help to write the letter in German. You will get an interview call, yes, but it will be in German), Bachelor/Master transcripts and certificates, experiences certificates, health insurance, work permit, matriculation certificate and other references letter to make your application good.
Don't forget to follow up once you have applied and didn't get any response for 2 weeks. I would suggest calling them. Ask them, show your interest in, dedication to get the topic of work in line. The employer appreciates it having good conversations on the call where you can also explain your thoughts.
So, this brings to deduce it wisely that the bottom line for keeping up with the study and work balance is constructive growth, it's important to have good mentors and network to help you out. Take a break if you are unsuccessful in getting replies. The most important thing to remember while studying and working is to learn discipline in life. This is a once in a lifetime opportunity, and you'll want to make the very most of it. Take full advantage of all the opportunities presented to you.
Muhammad
Comments
Zeinab

December 27, 2022 9:59:44

I want to ask if (The temporary residence permit entitles the holder to take up employment totalling no more than 120 days or 240 half-days per year, and to take up a student ) mean calendar year or residence year ??
Comment on this article
Your email address will not be published.