Set between the modern-day behemoths of Stuttgart and München, on the banks of the river Lech, lies the city of Augsburg. It's almost as if the quiet beauty of this city has been put on the shoulders of these giants, so that it may be appreciated the way it should be. It is a beautiful little town, perfectly suited to leave behind the hustle and bustle of student life. It allows you to be, and to breathe anew.
The role of travel in student life
The life of a student in Germany is extremely engaging. It certainly is enjoyable, but it also comes with its set of challenges. Be it the stress of exams, or the pressure of working as you study, one often finds themselves looking for ways to relax, and enjoy a little change. Travelling is a great way of refreshing yourself, while experiencing new and diverse things. It is not only a rich man's game either. Resourcefulness will take you far, quite literally so, in this case. There are many options available out there, for transport and accommodation alike, which would allow a student to travel, without breaking the bank. In my not so humble opinion, there is hardly a more resourceful creature to be found, than a student. If there is an opportunity to be found, it will be.
One such opportunity, to travel to Augsburg came to me at the very end of exam season for the summer semester of 2021. A friend, also a fellow student of another German university, had recently shifted there, and I was excited to meet them and explore this new city, about which I hardly knew a thing.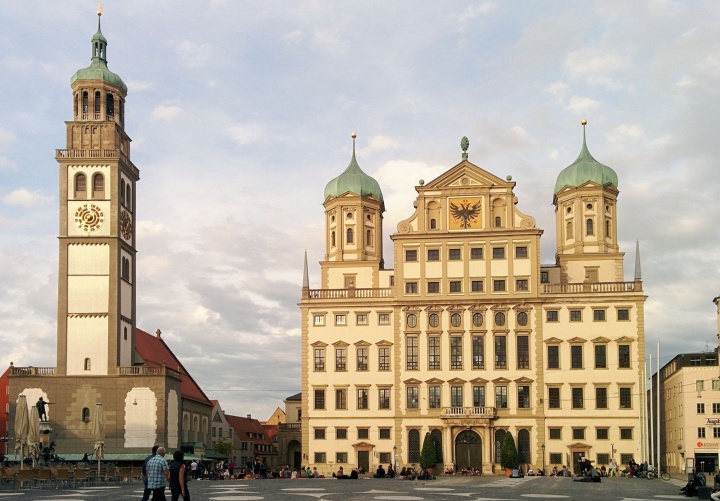 The ride to Augsburg
Augsburg is about 160 km to the East of Stuttgart and lies in the region of Bayern. The fastest way to get there from Stuttgart appears to be via road, and takes between an hour and a half and 2 hours. I ended up subscribing to a ride along service called 'Blabla Car' where an app connects you to someone traveling to your destination, and they give you a ride in their vehicle for a small fee. It is affordable, and my personal experience with it at least, has been a positive one. I ended up meeting extremely interesting people and I learned a lot from them in my travels.
The warm welcome of a small city
As I made my way into the city, the quiet charm of the place was making itself more and more evident. I have long maintained that all cities have their distinct personas. Augsburg beautifully toes the line between being a modern, thriving town, and an old, classically European city that one often thinks about, when they imagine old buildings, and winding cobblestoned streets.
The city-centre is highly modern, with wide streets, and has the look of a place that very much means business. But just a short 10-minute walk to the Augsburg Dom and the surrounding are, transports you into an-old world wonder. The short 500 meter walk on Karolinenstraße, between the beautiful Augsburg Dom, and the imposing façade of the Rathaus and its neighbour, the Perlach Tower, with their curious onion domes, is an experience unto itself.
The flavours of dusk
The city is full of canals, and takes on an entirely different mantle, come evening. The streets glow in the yellow haze of the lights. Sometimes, we get lucky, and the sky puts on a show for us, and the city embraces it all, and is embellished by it. A slow walk through it all, maybe a delectable scoop of ice cream in hand, the thrum of people, out to enjoy the evening, all adds to the occasion. I ended up going to a restaurant attached to a local brewery, and the food did not disappoint. It just goes to show that German food, prepared the right way, can appeal to all tastes.
Kuhsee: The all natural amusement park
About 20 minutes by road from the city centre, to the South of Augsburg, is the beautiful lake Kuhsee. I would however, advice to walk or cycle there, as the walking trail is much shorter, and leads through a small forest, and is every bit as enjoyable as the destination. Neighbouring an elaborate dam built on the Lech, Kuhsee has turned into a popular destination for tourists and locals alike. On any given day, you can find the place bustling with people, enjoying with their friends and families. They have picnics on the edge of the lake, as they swim, and row, and play in the water. There are small cafes, serving all manner of delicious finger foods and beverages. The place is absolutely surrounded by beautiful nature trails, and tree cover. It makes it the perfect place to plan an outing.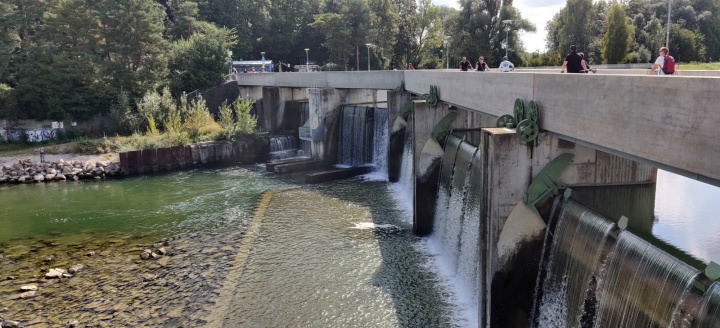 I am quite sure that Augsburg has a lot more to offer, and my view on it is rather myopic. I do not however see this as bad thing necessarily. It means I can always look forward to going back. It also means that you, the readers can go and have your own unique experiences. I hope you get to visit Augsburg one day, and I wish you happy travels, no matter what journey you find yourself on.
Prateek V. Patankar
Comment on this article
Your email address will not be published.